Need to make a change to a Creator's bid or required deliverables?
We're here to help! This process is different for customers who have subscription access to the platform compared to those who have guaranteed deliverables, so we'll explain both options.
Subscription/SaaS Customers:
Your subscription provides you with full transparency into Creator bids and campaign budgets. You are also able to negotiate with a Creator to change their bid and/or their required deliverables.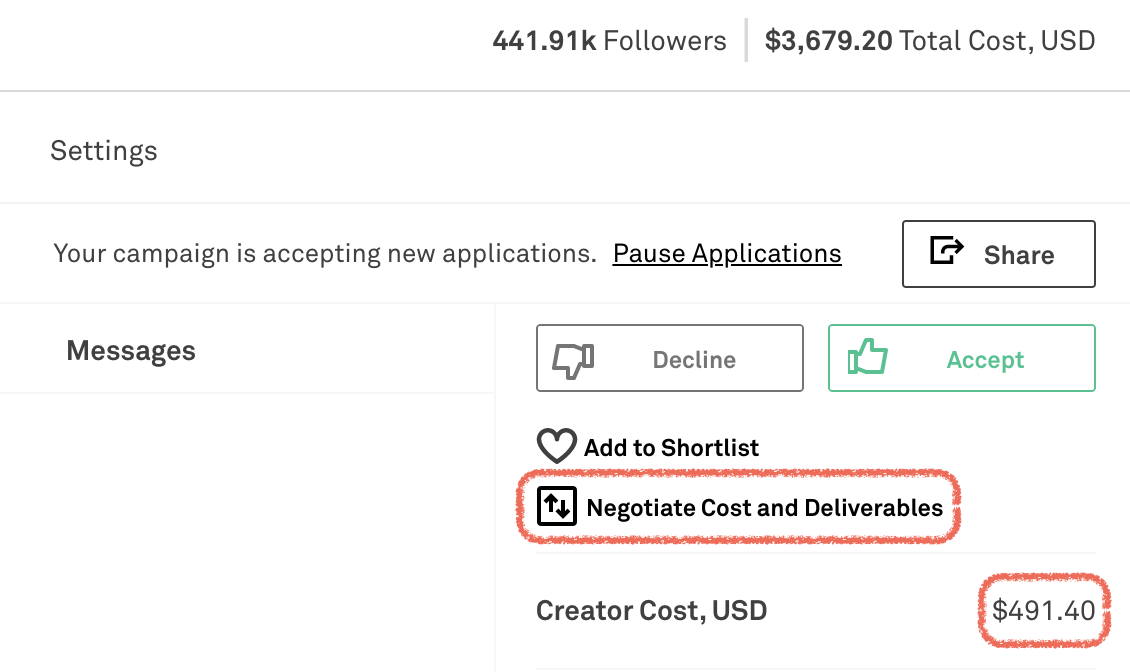 The bid that you see displayed above is inclusive of all fees that were agreed upon in your contract. That means that you never have to worry about doing any math (you're welcome). 😉 The negotiation pop-out window will show you the new cost of collaborating with this Creator if you adjust their bid. Or perhaps you'd like to change the number of required deliverables instead of adjusting their bid. You have a dropdown menu full of possibilities to choose from.
You might have noticed that the phrase (No Stats Captured) appears frequently in the dropdown menu. There's a good reason, we promise! Our platform currently only connects to one API at a time within a campaign. That means if you create an Instagram campaign, but you'd like a Creator to also post on TikTok, we'll only be able to capture their Instagram post data, and you'll need the Creator to send you a screenshot of their TikTok post data. Want to capture all of your data in-platform? Set up a separate TikTok campaign and invite your Creator to apply.
Made a mistake when sending a negotiation offer?
You're able to withdraw a pending negotiation offer. In other words, if a Creator hasn't yet accepted the terms of your negotiation offer, you can withdraw that offer and re-send a new one. If your Creator has already accepted the terms of your negotiation offer, you'll need to send a new offer, and hope that they're willing to accept it. If necessary, you can send a message to the Creator explaining the issue. All negotiation offers are shared via the messenger, so you can review the history there.
You can withdraw your negotiation offer in two places: the top right-hand corner, or within the messenger next to the offer.
OR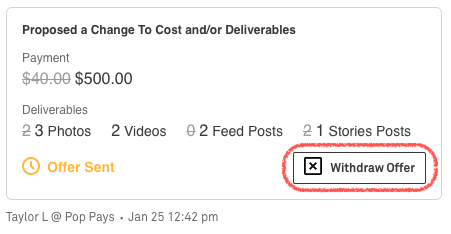 Once you've withdrawn the offer, you'll be prompted to confirm (this will notify the Creator) and you'll see confirmation within the messenger. At this point, you can start the process over from the beginning, to send a new negotiation offer.
Single Buy/Guaranteed Deliverable Customers:
Your contract outlines specific guaranteed deliverables that you require our customer service team to deliver on. That means that we'll need to manage all budgets and negotiations on behalf of your team. If a Creator sends you a message about their bid, the campaign budget, or perhaps you'd like to get more content from a specific Creator, you can flag this to your dedicated Client Success Manager, and let the Creator know that Popular Pays will be in touch. We'll take it from here!