Over the past couple of months, Product and Engineering has been diligently working on developing these major features. We are beyond excited to introduce them and hear what you think. Check them out and let us know!
Connect
TikTok Search
Search over 500,000 TikTok influencers quickly and efficiently using Pop Pays TikTok search tool. For current customers, this tool is available through the search page by clicking the 'Search TikTok Creators' tab at the top.
Discover the platform's best creative partners who can help you build your brand on TikTok and possibly make your brand go viral today!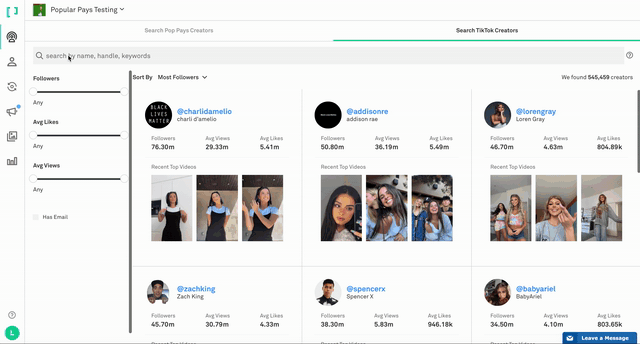 Collaborate
Applicant & Participant Negotiation
Ever find the perfect creator for your campaign but they are way out of budget? Or maybe they were so great that you want more of their work! Now our subscriptions user are able to negotiate with creators to make that perfect collaboration.
Negotiation is available on open market campaigns for applicants and participants. Click 'Negotiate Cost & Deliverables' to generate a new Offer to send to the creator.
Creator Cancellation
Sometimes that perfect collaboration ends up being not so perfect.. For cases where the creator is no longer available, unresponsive or simply hasn't met the deadlines for content submissions, we will allow brands to remove these creators from a campaign. This option will only be available so long as the creator has not uploaded content.
Campaign Completion Requirements
To close a campaign, it is now required that all creators are in a completed state. We've made this easy by automating the process of moving all creators to complete when you close a campaign.