There are 3 different ways to get Creator applications for a campaign:
Our hand-raising approach (Creators can apply organically, of their own volition)
Your dedicated CSM can recruit Creators on your behalf*
You can invite Creators from the campaign Invite tab or from Search
How can you invite Creators to your campaign? Let's explore the options together!
From the Search tool
First, you'll need to select the campaign that you'd like to invite Creators to apply for. You'll see a dropdown menu to the right of the social network buttons, where you can choose from all of your active campaigns that are currently accepting applications.
Note: Missing a campaign? Click into the campaign you're looking for and navigate to the campaign settings tab. Here, you'll be able to confirm the campaign status. If it says 'Your campaign is not accepting new applications.' on the left-hand side, you can click the 'Open Applications' button on the right-hand side to ensure Creators can apply to your campaign. After making this change, you will be able to see this campaign in the dropdown menu on the Search tool.
After selecting the campaign that you'd like to invite Creators to, the Search tool will reload with all of the settings that you chose when building out the creative brief. In other words, you'll only see Creators who are eligible to apply to your campaign. Once you've discovered a Creator you'd like to invite, click the megaphone icon to send the Creator an invitation.
This will trigger an email notification (and if the Creator uses our iOS app, a push notification) letting them know you're interested in them. This notification also provides the Creator with a direct link to review your creative brief and apply.
From the campaign Invite tab
Within your campaign, you'll see all of the tabs at the top, from Brief to Settings. Select the Invites tab to get started. Here, we display Suggested Creators for you to review. If you're interested, you can invite them to apply to your campaign.
Note: You're not locked into working with any of the Creators you invite to apply. You're still able to reject an application after vetting them further. If you review the suggested options and find a Creator you're not interested in, you can dismiss them by clicking 'Not Interested' (Creators are not notified).
How are these Creators surfaced? Our platform takes the information from the eligibility and good fit sections of the creative brief to suggest a handful of Creators who might be a good fit.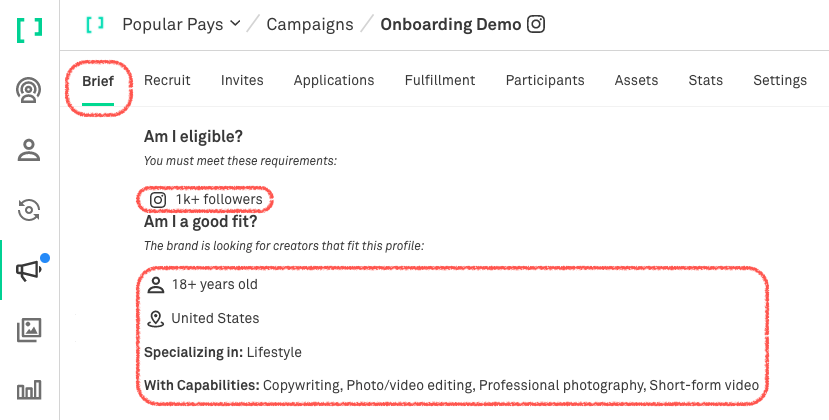 Note: If you're looking for a very specific type of Creator--We recommend inviting from Search, as you can hone in on a niche Creator much more easily using the robust search filters and keywords, instead of reviewing our general suggestions.
Using the Invite share link
On the Invite tab, you'll notice a button on the right-hand side that says '+ Invite Creators' this button generates a link that is unique to your campaign.
You can share this link with Creators on-platform or off-platform to invite them to apply to your campaign. Once you click that button, you can click the button on the right-hand side of the pop-out window to copy the link to your clipboard.
After you've started inviting Creators to your campaign, you can keep track of those sent invites by clicking into the 'Invited' tab within the Invites tab. Here, you can see the date you invited a Creator as well as the status. If a Creator has applied to your campaign, you'll see that information listed under the status column. If Creators are unresponsive to the initial invitation, you can also send them a message using Threads to send them the invite share link. Learn more about using Threads here.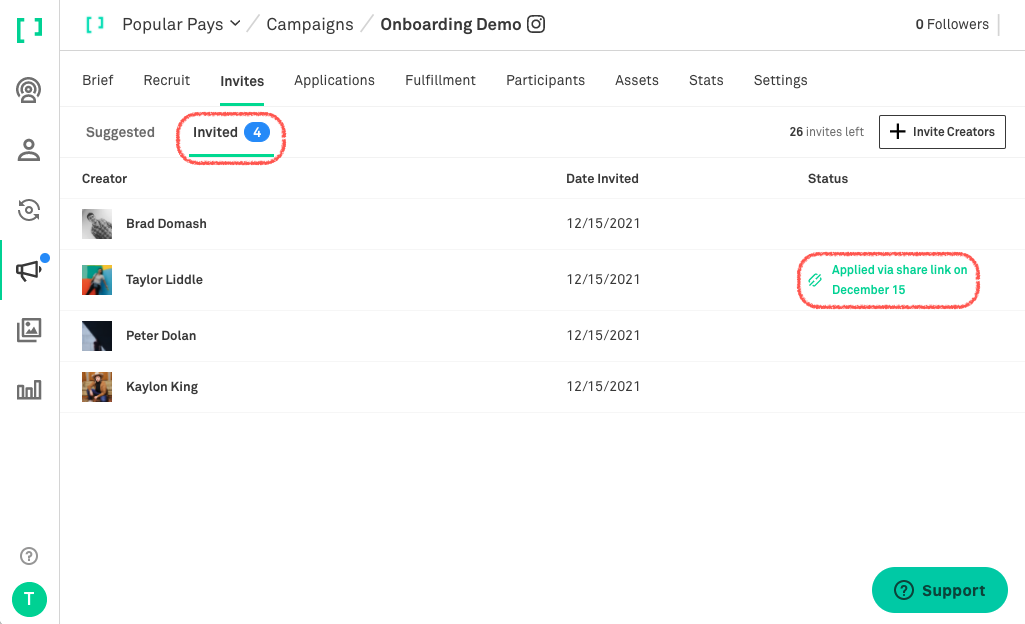 I ran out of invites. What now?
We implemented invite limits in the hopes of limiting our Creator community from feeling 'spammed' by invites. If you ever run out and need additional invites, we're happy to provide them! Please reach out to Support in-platform, letting them know which campaign you're working on, and they will be able to increase your invite limit.
*Not all customers have a dedicated CSM, if you're interested in adding service or upgrading your service level, please contact sales@popularpays.com or reach out to Support in-platform.